WENREXA GAME ASSETS #1 + Infinity
A downloadable asset pack
Get this asset pack and 4 more for $50.35 USD
View bundle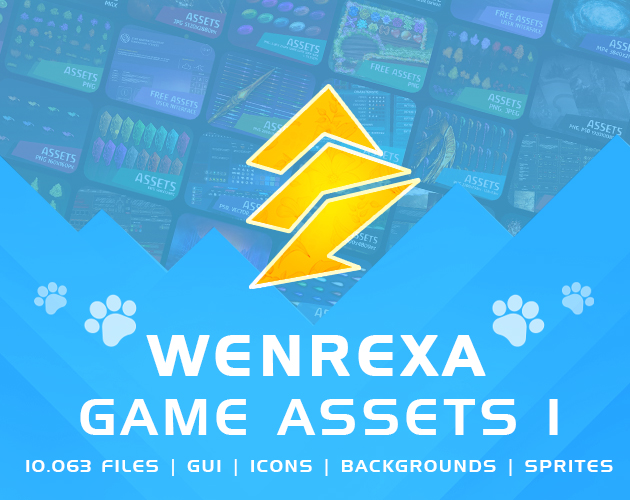 Features
[SIZE: 2GB 720MB High resolution, VECTOR, PNG, PSD, JPEG, AI, MP3, MP4]
[10.063 ASSETS!]
[GUI, ICONS, SPRITES, BACKGROUNDS, KITS, FOOTAGES, SOUNDS FX, WALLPAPERS]
[The infinite asset package!]
[Constant replenishment of new content is free of charge.]
[VERSION: 1.8]
[LAST UPDATED DATE: 16.01.2021]

1. This package will be periodically updated with new assets. For example, if you bought this package 2 months ago, then when you add a new asset to the archive, it is free for you by default.
2. The file structure of the archive is neatly organized into categories. Everything is clear and transparent.
THIS IS AN INFINITE PACKAGE OF ALL OLD, NEW AND FUTURE ASSETS. AN ENDLESS CYCLE OF NEW CONTENT FOR YOUR PROJECTS! THE PRICE IS VIRTUALLY FREE OF CHARGE.

The package will be updated every month as soon as new content is released. You get new content in this package for free! You won't need to pay for new content.
New assets will appear every month in this archive.
All previously posted assets on this resource will also be included in this asset package.

The price changes depending on the number of assets. The value of the entire package is summed up based on the value of the previous assets laid out. The package has everything.

The price is incredibly low - I set extremely low prices for my content.
[How do I unpack files?]
You need to download all 4 archive files in one folder. Please do not rename the archives until you unpack them completely.
1. All these files must be downloaded to a single folder.
[WENREXA Game Assets #1].zip
[WENREXA Game Assets #1].z01
[WENREXA Game Assets #1].z02
[WENREXA Game Assets #1].z03
2. After you download the 4 Archives, run "[WENREXA GameAssets #1]. zip" this file and unpack it to any directory.
License
You can use all assets for your projects on a free and commercial basis.
You can use assets for free and commercially in any of your projects(games, videos, animations, programs, books, etc.). Exception: it is Forbidden to resell assets. It is forbidden to introduce assets into projects for reselling their assets.
[Content - GUI User Interface]
[VECTOR GRPAPHICS PSD, PNG]
GUI Dev #1
GUI Dev #2
GUI Game #1 [Retro, SciFi, Minimalism, Casual]
GUI Game #2 [Minimalism]
GUI Game #3 [Minimalism]
GUI Game #4 [RPG, MMO, Action, Medieval]
GUI Game #5 [Casual, Army, Medieval]
GUI Game #6 [RPG, RTS, MMO, Action, Medieval]
GUI Game #7 [Anime, Minimalism, RPG, MMO, Action, Medieval]
GUI Game #8 [Casual, Indie, Minimalism]
GUI Game #9 [RPG, MMO, Action, Medieval]
GUI Game #10 [Anime, Minimalism, Retro, Casual]
GUI Game #11 [Anime, Minimalism, Retro, Casual]
GUI Game #12 [Anime, Minimalism, Retro, Casual]
GUI Game #13 [Space, Minimalism, Action, SciFi, RTS]
GUI Game #14 [Space, Minimalism, Action, SciFi, RTS]
GUI Game #15 [Space, Minimalism, Action, SciFi, RTS]
GUI Game #16 [Space, Minimalism, Action, SciFi, RTS]
GUI Game #17 [Anime, Minimalism, RPG, MMO, Casual]
GUI Game #18 [Nature - Only PNG]
GUI MMORPG Dark Templar [MMORPG]

[Content - Sprites]
[PNG, AI(1)]
Sprites - Animated Butterflies #1 [80]
Sprites - Animated Butterflies #2 [520]
Sprites - Asteroids Normal + Pixels [182]
Sprites - Cartoon Fishes [113]
Sprites - Crystal [18]
Sprites - Crystal Signs Normal + Pixels [420]
Sprites - Forest #1 Tree, Shrub, Grass [37]
Sprites - Forest #2 Tree, Shrub [29]
Sprites - Lasers Bullets #1 [66]
Sprites - Lasers Bullets #2 [30]
Sprites - Lens Flare [36]
Sprites - NPCs Beetles Cartoon [90]
Sprites - SciFi Buildings [177]
Sprites - Screamers [6]
Sprites Weapon - Golden Spears [372]
Sprites Weapon - Scythe [498]
Sprites Weapon - Swords [325]

[Content - OTHER]
[JPEG, PNG]
Sprites - Other #1
Sprites - Other #2
Map -Other #3
Icons - Other #4
[Content - Icons [Spells, Skills, Abilities]]
[PNG]
Icons - Skill & Spell Icon Pack #1 [350/50]
Icons - Skill & Spell Icon Pack #2 [350/50]
[Content - Icons]
[PNG]
Icons [FOOD]
Icons - Fruits
Icons - Meat
Icons - Vegetables
[Content - Icons [OTHER]]
[PNG]
Icons - [Armour, Helmet]
Icons - Christmas balls
Icons - Crystal
Icons - Elixir
Icons - Gem Stones
Icons - Magic Sphere
Icons - Medieval Tools
Icons - Minerals
Icons - Rings
Icons - Stones
[content - EMODJE]
[PNG]
Emodje #1 [17]
Emodje #2 [10]
[Content - 3D Models]
[MAX 3D Studio Max]
[3D Model] CPU
[3D Model] Full Human Skeleton
[Content - Cursors]
[PNG, ICO]
Cursors #1 [616]
Cursors #2 [102]
Cursors #3 [40]
[Content - 2D Backgrounds]
[JPEG, PNG]
Abstract Backgrounds [165]
Anime backgrounds [63]
Backgrounds of Fruit [51]
Depressive Loading Screens [36]
Nature backgrounds #1 [17]
Nature backgrounds #2 [30]
Space backgrounds 10k [61]
Radial pack [9]
Chaordic Horror [11]
[Content - FOOTAGE]
Footage Universe 4k Original.mp4
Footage Explosion Energy 2k [5 - MP4]
[Content - STYLES PHOTOSHOP]
[PSD]
[Pack] Styles Photoshop [375]

[Content - SOUNDS FX]
[MP3]
FX Pack #1 [32]

| | |
| --- | --- |
| Updated | 3 days ago |
| Status | Released |
| Category | Assets |
| Release date | 66 days ago |
| Author | Wenrexa |
| Made with | Construct, 3ds Max, Adobe Photoshop, Adobe After Effects, Adobe Illustrator |
| Tags | assets, audio, elements, graphics, icons, interface, sprites, Tilemap based tools, ui, user-interface |
| License | MIT License |
| Asset license | Creative Commons Zero v1.0 Universal |
| Links | Instagram |
Purchase
Get this asset pack and 4 more for $50.35 USD
View bundle
In order to download this asset pack you must purchase it at or above the minimum price of $36 USD. You will get access to the following files:
[WENREXA Game Assets #1].zip
607 MB
[WENREXA Game Assets #1].z01
728 MB
[WENREXA Game Assets #1].z02
728 MB
[WENREXA Game Assets #1].z03
728 MB
Additional update 16.01.2021.zip
232 MB